| | |
| --- | --- |
| More people can claim Self-Isolation Support Grant | The first minister turns to the eligibility for the self-isolation support grant of £500. Ms … |
| Guidance for students returning home | Plans for mass testing of asymptomatic students. Students travelling home at the end of term … |
| International Travel – changes | Quarantine rules are changing. From 15 December passengers returning to the UK from high-risk countries … |
| Guidance for the Festive period | Between 23 – 27 December, you can form a "bubble" of up to three households. … |
| Calmac Ferry Timetable change | From Tuesday 24th November, there will be changes to the timetable. Every Tuesday, Wednesday, and … |
| Town Centre Shopfront Improvement Grant | This application process is now open, and will close on the 18th December 2020 at … |
| Travel Exceptions November 19 | Exceptions This is a list of limited exceptions from the guidance not to travel into … |
| Calmac – 27th November to 19th December | During this period, 27th November to 19th December, MV Isle of Arran will be covering … |
| News Summary 17 November | 19 council areas see no change to their levels this week. 2 areas, East Lothian … |
| Scottish Child Payment – Details | What is Scottish Child Payment? It's a new payment for families on certain benefits or … |
| Helping students home at the end of term | Plans to support students to return safely. Thousands of students in Scotland will be tested … |
| Supporting the Langoustine sector | £1 million assistance for new group. A new resilience group has been granted £1 million … |
| Renewable heat scheme for homeowners | Support to reduce energy usage. A new £4.5 million cashback incentive to help people install renewable and … |
| Germany & Sweden – Travellers must quarantine for 14 days | Quarantine for travellers arriving from Germany and Sweden Travellers arriving in Scotland from Germany and … |
| Furlough Scheme extended and other measures | Chancellor Rishi Sunak has confirmed that he will extend the furlough scheme across the UK … |
| Support for the Self Employed | The self-employed will be able to claim state aid of up to 80% of profits, … |
| New benefit system to offer short term assistance | Payment introduced to protect people when challenging benefit decisions. People challenging disability benefit decisions will … |
| Mortgage holidays extended | Mortgage payment holidays are being extended for homeowners financially affected by the pandemic. The scheme … |
| Credit card freeze extended | Payment holidays on credit cards, car finance, personal loans and pawned goods have been extended … |
| Updated schools guidance | Strengthened safety measures for pupils and staff. Guidance on school safety has been updated to … |
| Hardship grants open to licensed sports and social clubs | The Economy Secretary has confirmed eligibility for more licensed businesses required by law to close … |
| Face covering exemption cards launched | Supporting everyone to feel safer. The Scottish Government has produced a face covering exemption card, … |
| Hospitality provisions – changes to current restrictions | The new levels framework will increase the opportunity for hospitality businesses to operate during different … |
| Proposals for Tourism recovery | Taskforce recommendations published. The Scottish Tourism Recovery Taskforce has published its recommendations for supporting the … |
| Halloween and Bonfire Night | Families and children are being urged to avoid guising this Halloween to minimise the risk … |
| New Strategic Framework document | This document sets out our strategic approach to suppress the virus to the lowest possible … |
| Business Financial Support – Update 23 October | The First Minister has said that some restrictions on business are likely to be necessary … |
| Shielding Update – 23 October | The First Minister has advised that anyone who was shielding should follow, as a minimum, … |
| Financial Support | The UK Government has announced new support for businesses. 1) Grants for businesses affected by … |
| Coronavirus (COVID-19): Restrictions Fund | Eligibility and how to apply for a share of the £40 million fund to support … |
| Self-Isolation Support Grant | Nobody should be forced to choose between doing the right thing, and being able to … |
| Coronavirus (COVID-19): Test and Protect | Test and Protect, Scotland's approach to implementing the 'test, trace, isolate, support strategy', is a public … |
| 12 October- English Area Restrictions | These are details of which areas are subject to which alert level in England The … |
| Visiting times extended for friends and family. | Care home residents and their family and friends will soon be able to enjoy longer … |
| New Financial Support for Businesses | The UK government will pay two-thirds of the wages of staff in pubs, restaurants and … |
| COVID-19 Winter Hardship Fund | Due to the Covid 19 pandemic, this coming winter will be very challenging for many … |
| Building Back Better – Online community forum launches | Communities across Argyll and Bute continue to play a significant part in the response to … |
| Revised Retail Sector Guidance | Guidance for the retail sector, including close contact services such as hairdressers, barbers and beauty … |
| School Exams Update | The Scottish Government has announced that – National 5 exams will be cancelled and replaced … |
| Your views needed on Amenity services | Argyll and Bute's council has to identify options to meet a projected budget gap of … |
| Guidance – Organised activities for children and young people. | Comprehensive Guidance has been revised and updated [05 October] Available here: Scottish Government Mother/baby groups … |
| A83 at the Rest and Be Thankful – Closed from mid-afternoon on Saturday | BEAR Scotland teams are on standby for heavy rain across much of Scotland this weekend … |
| Advice for animal owners | Advice for pet owners and livestock keepers on looking after the health and welfare of … |
| Flu DROP IN clinic further information | Please direct any queries to the surgery by phoning 01688 302 013/ 302 109. We … |
| Mull and Iona Pantry | Mull and Iona Pantry will be closed from Thursday 1st October – Wednesday 14th October. … |
| Community food-growing spaces | This guidance applies to outdoor community food-growing sites. This includes all forms of community food-growing … |
| Rebuilding a fairer Scotland after COVID-19 | Expertise and experience wanted to help tackle poverty and inequality. Ideas are being gathered to … |
| Student Guidance | The Scottish government has just issued updated guidance that students can return to their family homes (previously … |
| Priority post boxes for Covid19 test kits | Priority post boxes for Covid19 test kits are.. Salen Pillar box (outside Spar shop) Aros … |
| Help shape a fairer recovery | Coronavirus (COVID-19): Supporting people and communities – call for ideas Community groups and organisations can … |
| Tourism and hospitality sector guidance | Guidance for the tourism and hospitality sector, including procedures for staff and customer safety and … |
| New Government Support announced | The Chancellor Rishi Sunak today outlined additional government support to provide certainty to businesses and … |
| Flu Clinics – Mull & Iona Medical Group | We are now able to release the dates for our proposed flu clinics. If you … |
| New measures – Self Catering | From Friday 25 September, people from more than one household (or extended household) must not … |
| A83 has Reopened | The A83 at the Rest and Be Thankful reopened under traffic light control this morning … |
| New Measures – Document links | If you want to read in more depth the links below will connect you to … |
| New Measures to drive down infection rate | Further measures to protect the population from the spread of coronavirus (COVID-19) have been announced … |
| A83 at the Rest and Be Thankful – Reopens Wednesday | The A83 at the Rest and Be Thankful is expected to reopen under traffic light … |
| Monday 21st September – Briefings | There have been significant Press conferences this morning. Chief Scientific Officer of the United Kingdom, … |
| New Restrictions in England | 'Major increase' in Covid cases in north-west England, Yorkshire and parts of the Midlands In … |
| Travel – Quarantine changes | People arriving in England and Scotland from Singapore and Thailand will not have to quarantine … |
| A83 – Rest and Be Thankful – update | Clearance work continues at Rest and Be Thankful following landslide The repair of damage to … |
| North East England – Restrictions confirmed | The Northumberland, Newcastle, Sunderland, North and South Tyneside, Gateshead and County Durham council areas will … |
| Calmac Winter Time tables – Bookings Open | Booking for the Winter timetable is now open. Calmac Winter Time … |
| Old Military Road reopened | The road used to divert traffic past a landslide at the Rest and Be Thankful … |
| Small businesses – Insurance Claims | Small businesses in the UK have been thrown a lifeline after London's High Court ruled some … |
| Roads Update | The Old Military Road local diversion route has reopened this morning, Tuesday, following the completion … |
| Building resilience for island communities | Island communities will benefit from a £2 million programme of locally-led green projects designed to … |
| Further quarantine measures introduced for travellers | Quarantine required for Hungary and La Réunion travel, while Sweden added to exemption list. Travellers … |
| Changes to Rules 10 September | The following changes have a confirmed date of Monday 14 September but we are encouraged … |
| Protect Scotland – New App details | The Protect Scotland app from NHS Scotland's Test and Protect is a free, mobile phone … |
| Keep Argyll & Bute out of Lockdown | With the number of positive Covid-19 cases rising in Scotland, it's important we work together … |
| Mobile Testing – Week 7th September | Community Testing for Covid-19 in mainland Argyll & Bute Schedule from 8 September 2020 Accessing … |
| Extended restrictions – Renfrewshire & East Dunbartonshire | Due to a continued rise in #coronavirus cases in the West of Scotland, we are extending restrictions … |
| CalMac Support for Customers with Urgent Medical Appointments | CalMac have introduced a new Urgent Medical Appointments Protocol to support island residents traveling to … |
| Portugal – Arrivals will have to self-isolate | Passengers arriving in Scotland from Portugal after 04:00 on Saturday will have to self-isolate for … |
| Help for childcare providers | Transitional Support Fund opens to help protect from COVID-19. Applications are now open for funding … |
| Automatic delivery of prescriptions ending 14th September | Automatic delivery of prescriptions ending 14th September Due to the reductions in lockdown restrictions the … |
| Sign up for home insulation scheme | Argyll and Bute residents have the opportunity to make their homes warmer, more energy efficient … |
| Travellers from Greece will have to self-isolate from Thursday | Travellers from Greece will be required to self-isolate at home for 14 days on arrival … |
| Restrictions introduced across West of Scotland | Indoor gatherings limited in Glasgow, East Renfrewshire and West Dunbartonshire. Following an increase in the … |
| Living Well Grants – Argyll & Bute HSCP | Argyll & Bute HSCP have launched year 2 of the Living Well (Self Management grants) … |
| Free debt advice expanded | More people will be able to benefit from free debt advice following investment from the … |
| Extra support for families of disabled children | The Scottish Government will lay legislation to enable delivery of the new Child Winter Heating … |
| Scottish culture and heritage – Emergency funding announced | Culture and heritage sectors are to benefit from a £59 million funding package to protect … |
| Fishing Boats – After Brexit | Owners are being urged to register their fishing vessels as food businesses, and have them … |
| Travel Changes from 04.00 Saturday | Travellers from the Czech Republic & Jamaica will be required to quarantinemfrom 4.00am Saturday. Source: … |
| Check if you can claim a grant … | … through the Self-Employment Income Support Scheme. If you're self-employed or a member of a … |
| Police given powers to break up large houseparties | Police Scotland granted powers to break up large house parties. Restrictions on social gatherings will … |
| Scottish secondary school pupils will have to wear face coverings … | Scottish secondary school pupils will have to wear face coverings in corridors, communal areas and … |
| Events sector guidance | There have been numerous updates to the Events Sector guidance. Document Published 23 August. Available … |
| Country Travel rules – 20 August | A significant rise in the number of cases of coronavirus (COVID-19) in Austria, Croatia, Switzerland … |
| Gyms etc – 31 August | Gyms, swimming pools and indoor sports courts can now reopen from 31 August. For indoors … |
| Delivering R100 (Superfast broadband access for all) | Voucher scheme to ensure superfast broadband access for all. Details of a voucher scheme to … |
| Advice for unpaid carers | This guidance is for anyone who cares for a friend or family member who, due … |
| France – Quarantine for arrivals from 04.00 am Saturday [UK Government] | The UK & Scottish governments have removed France from the Covid-19 travel corridor list. The … |
| Road surfacing work starting 19th August | Capital surfacing works will start next week on Mull. The roads affected will be… B8073 Killiemore … |
| Aberdeen – Restrictions continue | People in Aberdeen City are asked not to travel more than 5 miles for leisure, … |
| West Coast Motors – Service update from 12 August | From Wednesday 12 August 2020 service across the network will increase as the schools begin … |
| Face Covering Exempt Card | If you spot someone carrying a face covering exempt card, please be aware that they … |
| Care home visiting expanded | Care home residents will be able to receive more outdoor visitors from Monday, 10 August, … |
| Tobermory – Kilchoan Ferry – Supplemetary information | Last Updated: 07 Aug 2020 Due to limited passenger numbers on the vessel, all passengers … |
| Changes in Face Covering Guidance – 7 August | Face coverings are currently mandatory in shops and on public transport. The first minister said … |
| From 14 August – Collecting contact details manadatory for Hospitality Businesses | From Friday 14 August, it will be mandatory for hospitality businesses to collect customer details. … |
| Tobermory – Kilchoan Ferry | Thursday 6th August Due to a technical problem, all sailings on the Tobermory- Kilchoan route … |
| Back to school travel guidance | As schools return find out more about the measures West Coast Motors have put in … |
| Aberdeen – New Restrictions | ABERDEEN The Scottish government, in line with the local health team and Aberdeen City Council, … |
| A83 Road Closure | 09.00 5th August Update The A83 remains CLOSED in both directions between Rest and be … |
| Give your views on housing in Argyll and Bute | Residents in Argyll and Bute are being asked to say what matters most to them … |
| Oban – Craignure | 10 August – 18 October 2020 Timetable | Check the service status of this route before you travel Calmac have published the next … |
| Restrictions in the North West – Holidays | The following is from the official Government Guidelines on the new restrictions in the North … |
| Tobermory Open Air Producers Market – 11-2 Every Monday | Tobermory Open Air Producers Market every Monday 11-2 pm selling the best of locally grown … |
| Round & About – August Issue – Available Now | The August issue of Round & About is now available in the shops, theme 'Past … |
| Travel to North West of England | People living in Scotland are being advised to avoid travel to areas in northern England … |
| Contact Tracing | Contact tracing is a process for identifying people at risk of coronavirus (COVID-19) infection because … |
| Calmac Update – 30 July | Following further discussions with Transport Scotland, Calmac are pleased to update that from 31 July customers will be … |
| Childcare & Schools | The Scottish Government has confirmed that pupils in Scotland will return to school from 11 … |
| News Update 30 July | Headlines A Scottish government assessment confirms that pupils will return to school full time from … |
| Self Isolation period increased | People who test positive for coronavirus or show symptoms in the UK must now self-isolate … |
| Hotel Recovery Programme | A £14 million Hotel Recovery Programme will help to secure up to 3,000 jobs at … |
| Coronavirus Support Scheme for Self-catering Businesses | The Coronavirus (COVID-19) Support Scheme for Self-Catering Businesses provides financial help for self-catering businesses across … |
| 10 Covid-19 Scams to watch out for | 1. Fake government emails offering grants of up to £7,500. Clicking on the links allows … |
| NHS Pharmacy First Scotland: information for patients | What is NHS Pharmacy First Scotland? NHS Pharmacy First Scotland is an NHS service provided by your local community pharmacy (a … |
| Advice on how to travel safely | Transport Scotland has produced comprehensive advice on How to Travel Safely There are dedicated sections … |
| Are you eligible for help towards your child's school meals and clothing? | Parents in Argyll and Bute are being invited to find out whether or not they … |
| Funding to support Events | A funding package of £10 million has been established to help the events sector recover … |
| Bus Timetables | West Coast Motor's new timetables are available on their website. 494 Tobermory to Calgary 95/ … |
| Quarantine – reimposed on arrivals from Spain | "Having reviewed the latest data earlier today, @scotgov is also reimposing 14 day quarantine for … |
| Advice to animal owners | Advice to owners of pets, companion animals and livestock who may be required to self-isolate … |
| Mull and Iona Vets Covid-19 Update: | As always, in case of emergency or if urgent attention or advice is required we … |
| Mull Music Festival – Postponed until April 2021 | "Unfortunately we are going to have to put the brakes on our October Mull Music … |
| Changes to Shielding from 23 July | From tomorrow if you are shielding you may: meet with up to eight people indoors … |
| Guidance for homeworking | This guidance is intended to support employers and the self-employed with the continuation of homeworking. … |
| Guidance for caravan sites and holiday parks | As from 15th July, most holiday accommodation, including caravan sites and campsites, is permitted to … |
| Calmac Update 21 July | Following further discussions with Transport Scotland, we are pleased to update that from 22 July customers will … |
| COVID-19 testing for under-fives | Children under the age of five who are displaying potential coronavirus (COVID-19) symptoms will be … |
| Updated Guidance – 20 July | The Scottish Government has issued updated guidance for the following Events Sector guidance – Multiple … |
| Quarantine rules lifted for Spain | Travellers arriving from mainland and islands exempt from quarantine requirements. Border health measures requiring people … |
| Retail sector guidance – Revised | Guidance for the retail sector, including close contact services such as hairdressers and barbers, which … |
| Agriculture loan scheme launches | Loans aim to maintain cash flow for farmers and crofters during COVID-19 crisis. A loan … |
| Support for childcare sector | Transitional Support Fund announced. Funding of £11.2m is being made available to support childcare providers … |
| Updated Guidance for Funeral Services | This guidance explains what restrictions are currently in place for funeral services and wider public … |
| Test and Protect – Multi-sector guidance | Test and Protect – Multi-sector guidance on collection of customer and visitor contact details – … |
| Breast Cancer Screening to resume | The Breast Screening Programme which was paused in March because of coronavirus (COVID-19) is to … |
| Small and micro businesses guidance for safe re-opening | This guidance is to help micro (less than 10 employees) and small (less than 50 … |
| Visiting family and friends in hospital | People in hospital who do not have coronavirus (COVID-19) will be able to have a … |
| Safety Rules for the Kilchoan, Lochaline or Iona ferry. | For the Duration of the crossing, the following safety rules apply You MUST remain in … |
| Tourism and hospitality sector guidance | Guidance for the tourism and hospitality sector, including procedures for staff and customer safety and … |
| Guidance for Hairdressers and barbers | Guidance published to ensure safe return for salons. [Full Guidance here] Hairdressers and barbers are … |
| Public Toilets Reopening – Update | The council is working hard to align itself to the Scottish Government's road map to … |
| Guidance on moving home | The Guidance on moving home has been updated. This guidance contains advice to ensure that … |
| Childminder services guidance | On 10 July Scotland entered Phase 3 of the route map for recovery from COVID-19. As … |
| Retail sector guidance | Guidance for the retail sector including procedures for staff and customer safety and an operations … |
| Staying safe and protecting others – All the Rules! | The Scottish Government has published the new rules on staying safe and protecting others to … |
| Help for homebuyers and employment support | New initiatives to support homebuyers and help people into work or to re-train have been … |
| Calmac 9 July 2020 – Bookings and Physical Distancing | Following discussions with Transport Scotland, Calmac are pleased to update that from 10 July customers … |
| Shielding Advice – From 10 July | The advice is to keep shielding until at least 31 July 2020. From 10 July, … |
| Lockdown Changes – Update 9 July | The following changes have been announced by the First Minister 10 July The general rules … |
| Visitor Charter | PLAN AHEAD, BE PREPARED Marketing Mull and Iona (MMI) has prepared a Visitor Charter in … |
| Updated guidance for people with specific medical conditions | The Scottish Government has issued updated guidance for people with specific medical conditions. These conditions … |
| Next steps for people shielding | Pause on shielding to be considered. Advice for people who are shielding is to change … |
| Scotland Airbridges | From Friday, travellers are exempt from quarantine rules when they arrive in Scotland from: Andorra, … |
| Summer Financial Statement – Key Points | The Key points of the Summer Financial Statement from Rishi Sunak. Please note: Further detail … |
| Argyll & Bute Council – Visitors urged to use official campsites | At this critical stage in the Scottish Government's roadmap to further ease restrictions, it's important … |
| Visiting Iona | Iona has been a place of welcome and hospitality for centuries and as restrictions begin … |
| Guidance for museums, galleries and heritage attractions | This guidance is for museums, galleries and heritage attractions It comes into effect immediately – … |
| Tourism and Hospitality sector guidance | Guidance for the tourism and hospitality sector, including procedures for staff and customer safety and … |
| Beatson's Building Supplies Mull Rally cancelled | Beatson's Building Supplies Mull Rally cancelled Tobermory-based event cancelled due to COVID-19 uncertainty Organisers committed … |
| Round & About – July Issue OUT NOW | The July issue of Round & About is now available in the shops, theme 'Community' … |
| Second homes guidance – July 3 | Overview Scotland's route map for easing out of lockdown restrictions was published on 21 May 2020 … |
| Promoting the use of face masks in Argyll | The Caring for People Tactical Partnership which was set up in response to the emergency … |
| Events Sector – Guidance | This guidance is for the events sector – in particular organisers of events. It comes … |
| Mull & Iona Ferry Committee update | The Mull & Iona Ferry Committee have responded to the newly published Calmac timetables which … |
| Staying Safe and protecting others (physical distancing) | Rules on staying safe and protecting others to help protect the NHS and save lives. … |
| Caravan sites and holiday parks | Guidance for campsites, holiday parks, caravan sites, motorhome hire businesses and their users. Who this … |
| Lockdown Update July 2 | 2 Metres rule remains the overall advice. From the end of next week there may … |
| Calmac Ferry Timetables 1 July – 18 October | These are the links to the  Calmac Timetable  Oban – Craignure 1 -14 July Oban … |
| Tobermory Harbour- Update 1 July | Tobermory Harbour is currently working towards lifting restrictions to visiting vessels from 3rd July, as … |
| Small Business Support Grant | The Small Business Support Grant closes on the 10th July – Small Businesses with a … |
| School Age Payment – Details | The School Age Payment is part of Best Start Grant, a package of three payments … |
| Visiting patients in hospitals – 13 July | From 13 July visiting to non-Covid areas of hospitals is to resume safely and on … |
| Guidance for Creative studios | Guidance for the creative industries, in particular for providers and users of creative studios in … |
| Guidance for retail, tourism and hospitality customers | Guidance for customers on how the retail experience in shops, tourism and hospitality businesses is … |
| Resuming cervical screening | Patients whose appointments were cancelled can now contact GP practice. Some NHS Scotland national screening … |
| Guidance for private landlords and letting agents – Updated 29 June | Updated Guidance has been issued by the Scottish Government 29 June Details and all guidance … |
| Guidance for businesses on physical distancing | Guidance for businesses in Scotland on physical distancing and closures due to the COVID-19 outbreak. … |
| Brendan O'Hara – Question & Answers | Mull Broadcasting was set up to provide entertainment by local people for local people during … |
| Opening public and customer toilets | The opening of public toilets carries with it a risk of transmission of COVID-19 given … |
| Calmac Update – 26 June | Calmac are pleased to now publish the next phase of our timetable. This will be … |
| Shopping scheme update – 26 June | Thank you to everyone who has used the Mull Health shopping scheme during lockdown. As … |
| Second homes guidance – Updated 26 June | Scotland's route map for easing out of lockdown restrictions was published on 21 May 2020. This guidance … |
| New guidance for customers | Nicola Sturgeon says all members of the public have a role to play in making … |
| Care Home Visits | One nominated person will be able to visit a loved one in a care home … |
| Key Dates | Indicative Phase 2 dates: 3 July – Travel distance limit for leisure will be lifted … |
| Money Worries? | Are you worried about how to cope financially at the moment? Have you considered talking … |
| Calmac Statement – 24 June | "We are currently operating an essential services timetable which will be in place until 30 … |
| Changes in Lockdown & Indicative dates | People in Scotland will be allowed to meet up with one other household indoors from … |
| Enhanced safety for health and social care staff | Routine testing of workforce extended as more services resume. Staff who work in specialist cancer … |
| Schools to return full-time in August – if progress maintained | Scottish schools are aiming to reopen full-time with no physical distancing in August if coronavirus … |
| Aquaculture Hardship Fund details | To apply for a grant under the aquaculture hardship fund, applicants are required to demonstrate … |
| Guidance on moving home – From 29 June | From 29 June 2020, all home moves are permitted, provided they can be carried out … |
| Second homes guidance – Coronavirus | This guidance outlines how the phases in the route map apply to second homes. Please … |
| Urgent Dental care | Urgent care to be made widely available. Dental practices can resume seeing see NHS patients … |
| NHS Scotland's Test and Protect advice | Information for households. Households will be sent information explaining how the Test and Protect system … |
| Restarting tourism safely – New Guidance | New workplace guidance published. Guidance to support Scotland's tourism and hospitality sector to reopen safely … |
| Shopping Service | There has been some concern expressed about the Shopping Service ending. There are no plans … |
| Calmac Update 19 June – Phase 2 | Calmac will continue to operate an essential lifeline timetable until at least 30 June 2020. … |
| Coronavirus threat downgraded | The UK's coronavirus alert level has been downgraded from four to three, its chief medical … |
| Credt & Store cards – Payment Holiday Extension | Banks have been told to give even more time to millions of people struggling with … |
| Funeral services in places of worship | The Scottish Government understand that most faith and belief communities in Scotland have halted the … |
| Shielding support and contacts – 19 June | The Scottish Governmet has issued revised documents for this group. Scottish Goverment web site Contact … |
| Advice for people with specific medical conditions – 18 June | These conditions include: cancer, diabetes, heart disease, IBD; chronic kidney and liver disease; dermatological, neurological, … |
| Returning to work safely – Update 18 June | As outlined in our route map we are taking a phased approach to easing lockdown measures to … |
| Coronavirus (COVID-19): Licensing (Scotland) Act 2005 section 142 – statutory guidance | The Scottish Government has published new guidance. It is an update on occasional license use … |
| Tourism and hospitality sector guidance | The Scottish Government has published new guidance for the tourism and hospitality sector, including procedures … |
| Mull & Iona Ferry Committee – Ferry Capacity over the summer | The shape of the ferry service over the next few months is starting to emerge. … |
| Phase 2 Changes | People using trains, taxis, buses and ferries in Scotland will be required to wear face … |
| Moving to Phase 2 of the Lockdown | The current status of the epidemic in Scotland means that the changes in Phase 2 … |
| Shielding? Today you can leave home to exercise | From 18 June, those who are shielding are able to leave home to exercise. Until … |
| Bin collections go back to three weekly cycle | From week beginning 29 June If you live in Kintyre (south of Kennacraig), Islay/Jura and … |
| Were you turned down for a grant by Argyll & Bute? | Were you not eligible for the £10,000 grant because you are a new business? "A … |
| Free school meals extended | Additional £27.6 million to help feed pupils and other key groups. Children eligible for free … |
| Mull & Iona Covid19 Local Resilience Fund | Applications are welcome for up to £3,000 from the Mull & Iona Covid19 Local Resilience … |
| Argyll & Bute Hardship Fund – B&B's | A new hardship fund launched today to help Bed & Breakfast and Small Serviced Accommodation … |
| Reopening childcare safely | Nurseries and other early learning and childcare (ELC) providers have received new guidance to help … |
| Calmac Customer Update – 12 June 2020 | "We've been sharing regular updates with our customers as Scotland takes its first phased steps … |
| Argyll & Bute Council News | Funding to help Events Argyll and Bute Council will invest up to £250,000 in events … |
| COVID-19 guidance for farmers and crofters | Guidance for farmers and crofters to prevent the spread of coronavirus (COVID-19) has been published. … |
| Construction industry – Update 11 June | This document is one of a set of documents about how to work safely in … |
| Summer support for students | Earlier financial help for those facing hardship. Students facing hardship this summer due to COVID-19 … |
| Help-to-Buy scheme – Extended | The first minister says the Scottish government's Help-to-Buy scheme is being extended until March 2022. … |
| Cleaning Protocols for Self-Catering Properties | A provisional date of 15 July has been set for when tourism businesses may be … |
| Scottish tourism sector could reopen on 15 July | Scotland's tourism businesses, including pubs, hotels and restaurants, have been told to prepare to reopen … |
| Glengorm Recycling Centre | Opening times Monday – Friday: 9.00am – 3.00pm Saturday: 9.00am to 12.00 noon Sunday: Closed … |
| Support for tourism industry | Further measures have been announced by Tourism Secretary Fergus Ewing to support Scotland's vital tourism … |
| Caring for People – Report 9th June | This is a weekly briefing to update health and social care partners on the work … |
| Ferries & Coronavirus survey | In the coming months as Scotland transitions through the Coronavirus Route Map, restrictions on travel will … |
| Shielding extended until 31 July | The shielding of those who are most at risk if they become infected with Covid-19 … |
| More support for small businesses | Small businesses which share properties but do not pay business rates are now eligible to … |
| New health measures for travellers to Scotland | New public health measures will come into force on Monday (8 June) to help suppress … |
| Update from Mull & Iona Ferry Committee – June 6 | Ferry capacity in Coronavirus future phases On entering phase one of the government's Coronvirus Routemap at the … |
| Guidance for hill walkers and climbers | Phase 1: Guidance for hill walkers and climbers in Scotland Read our detailed Phase 1 … |
| CRUMBS! | CRUMBS! The Ross of Mull Community Café has been delighted to be able to help … |
| Accomodation for Hospital Appt's in Glasgow | Premier Travel Inn Glagow City Centre South which is only open for essential workers will … |
| Army Mobile COVID19 Testing Unit on Mull today | An Army Mobile COVID19 Testing Unit has arrived in Mull this morning to test essential … |
| Calmac Essential timetable until 30 June | CalMac is continuing an Essential Timetable until 30 June 2020 due to Covid-19 No future bookings will … |
| Extra payment for Carers | Eligible carers to get an additional £230.10. In recognition of the additional pressure that unpaid … |
| Mobile Testing Unit for Essential Workers -Thursday | It looks like a Mobile Testing Unit (MTU) will be at Mull and Iona Community … |
| Round & About – June Issue | The June issue of Round & About is now available in the shops, theme 'Nature' … |
| Best Start Grant School Age Payment. | Eligible parents of children aged four and five are being encouraged to apply for financial … |
| Additional quota for inshore fishing | Up to £2 million of potential new opportunities to help fleet. Inshore fishers who usually … |
| Next steps for NHS Scotland | NHS Scotland will begin resuming some services that have been suspended, delayed or deferred due … |
| Self-Employment Income Scheme to be extended | The Self-Employment Income Scheme will be extended, with applications opening in August for a second … |
| Furlough scheme details | Businesses must start paying towards furlough scheme from August. The Chancellor says Employers will be … |
| Tobermory Harbour Association guidelines for easing lockdown | The Harbour Association has issued and a Notice to Mariners new guidance for Harbour users, … |
| Calmac – Changed Guidance | CalMac have today announced minor relaxations to the types of ferry travel that is permitted, … |
| Changes to Lockdown – Phase 1 starts tomorrow | Phase 1 starts tomorrow in easing Lockdown From Friday, We will now be able to … |
| Pharmacy Closed – Thursday 28th May | The Pharmacy is closed on Thursday 28th May because of the repairs going on. The … |
| Changes to bins, roads and amenity services | The Recycling centre reopens June 1st. Keep up to adte with the situation at https://www.argyll-bute.gov.uk/recycling The … |
| Michael Russell, Facebook Q & A Details | Michael Russell, MSP, is holding a Facebook session starting at 7.30pm on 28th May. Open … |
| Call for Evidence on impact of COVID-19 on the rural economy | The Rural Economy and Connectivity Committee is inviting all interested individuals and organisations to submit … |
| Updated Guidance | We have updated the following Pages, today 27th May Official Guidance for Planning Covid-Safe Workplaces … |
| Test & Protect Resources | Guidance for the public, including a summary is available online along with guidance for employers. Under Test and Protect, … |
| Waltons Island delivery update | Waltons are no longer doing any personal shopping in any supermarkets now. Tesco will make … |
| Scientific evidence – returning to schools | The Scottish Government has published a summary of  the scientific evidence about coronavirus relating to … |
| Support to work safely – New Guidance by sector | New guidance has been published for retailers and manufacturers to consider how people can safely … |
| Test and Protect | The Scottish government's new "test and protect" strategy will go live on Thursday, the first … |
| Drones delivering masks to the Hospital | Drone technology is to be used to deliver protective equipment to a hospital on a … |
| Two week quarantine on new arrivals to UK from 8th June | Two-week quarantines will be imposed on new arrivals to the UK from June 8, with fines … |
| Calmac – Essential timetable until 14th June | CalMac is currently running an essential services timetable across our network in response to the … |
| Easing Lockdown – Clarification | Nicola Sturgeon has said people will be able to travel longer distances to see their … |
| What is the Scottish Welfare Fund? | The Scottish Welfare Fund is a national scheme provided under The Welfare Funds (Scotland) Act … |
| Tobermory Recycling centre – Reopening 1 June | Household waste recycling centres to reopen on June 1 Plans are being made to reopen … |
| Mortgage Payment 'Holidays' extended | Homeowners struggling financially due to coronavirus will be able to extend their mortgage payment holiday … |
| Schools will reopen from 11 August | Scottish schools have been asked to start preparing for the return of pupils in the … |
| Summary of Proposed Changes to Lockdown from 28 May | The rules set out in the previous (Lockdown) phase apply except as set out below. … |
| Scotland's route map through and out of the crisis | Download the … |
| Best Start Grant and Best Start Foods | You can get Best Start Grant and Best Start Foods: if your child is the … |
| Coronavirus Symptoms? You can now get tested | The first minister has confirmed that testing will be available from today to anyone with … |
| Change in Official Guidance | People who experience a loss of smell or taste are being advised to get tested … |
| Easing Lockdown – Route map | The first minister will publish a route map setting out a phased approach to easing … |
| Official Guidance for Planning Covid-Safe Workplaces | The offical guidance for planning Covid-Safe Workplaces has been added. WE will add further resources … |
| Short term electric bike hire to Key Workers. | Due to the current Covid-19 we are currently closed but through Cycling Uk we are … |
| Shielding support and contacts | Details of shielding support for vulnerable people to arrange for food and medicine deliveries, and … |
| Self-Employment Income Support Scheme | To apply go here, enter your Unique Taxpayer Reference, enter NI number. Complete the personal … |
| Helpline for those seeking employment or studying | Skills Development Scotland is providing help through its website My World of Work. SDS has … |
| Coronavirus (COVID-19) recruitment | NHSScotland Careers | COVID-19 tracing team. As we move into the next phase of the COVID-19 response, a … |
| Essential workers: apply for a #coronavirus test | IMPORTANT ANNOUNCEMENT FROM Argyll and Bute HSCP An army mobile Covid-19 testing unit is travelling … |
| Shopping scheme update 13th May | Thank you to the Coop for doing an amazing job getting back on track this … |
| Food parcels and food deliveries – who is doing what? | Co-op shopping can be ordered through the Mull Health website, and delivered to your door. … |
| Extra support for charities | Small premises now eligible for £10,000 grants. Properties occupied by charities can now apply for … |
| Furlough Scheme extended until October | The UK scheme to pay wages of workers on leave because of coronavirus will be … |
| Isle of Mull Community Covid-19 Emergency Fund | This is amazing! The target was set at £7,000 and now is at £7,810. So … |
| Co-op Tuesday 12th – Good News! | I can confirm that all our systems are now up and running and we will … |
| 6 Days to go … | 6 Days left … £190 to go … it's getting closer. … |
| National Wellbeing Hub for Health & Care Workers & Carers | New resources for staff, carers, volunteers and their families.  Organisations from across Scotland have worked … |
| Alternatives to the Co-op | Just a reminder that the following are doing orders and that these can be delivered … |
| Shopping Service suspended | Monday 11th May – Co-op shopping A major power outage overnight has resulted in a … |
| MCC Comments on Scottish Government Framework | Mull Community Council comments on Scottish Government Framework Mull Community Council (MCC) strongly supports the … |
| Lockdown – Change | Nicola Sturgeon says people will now be permitted to exercise outdoors more than once a … |
| Student Accomodation – Proposed changes | Students who cannot take up places in purpose-built accommodation due to the Covid-19 pandemic will … |
| Additional support for Lifeline Services | Families on lower incomes and older people are to get more support with extra funding … |
| Support for lockdown restrictions | Survey of attitudes to COVID-19 shows public respect messaging. Staying at home to save lives … |
| Additional £45m to support pivotal businesses. | A fund launched last week to provide grants for small and medium-sized businesses affected by … |
| Fair Start Scotland | Are you unemployed and looking to secure work? If so the Employability Team is here … |
| Housebuilders – Emergency Loans | Housebuilders will be able to apply for short-term loans of up to £1 million from … |
| Connecting High Risk & Low Income groups | People from low income households and who are clinically high-risk are to be given laptops … |
| Scotland's coronavirus lockdown extended | First Minister Nicola Sturgeon has formally extended Scotland's coronavirus lockdown. By law, the social distancing … |
| Co-op Update 6th May | Delivery volumes on chilled and fruit and veg are very large today so we should … |
| The Scottish Goverment wants to hear your ideas | The emergence of Coronavirus (COVID-19) is the biggest global challenge that humanity has faced for … |
| Extra payment for unpaid carers | Investment of £19.2 million to support 83,000 carers As part of the next emergency coronavirus … |
| Farming – New powers over CAP | Legislation which allows the Common Agricultural Policy to be simplified and improved post-Brexit has passed … |
| Home schooling – Update from Argyll & Bute | Argyll and Bute Council's Policy Lead for Education has issued a reassuring message to parents, … |
| Mull and Iona Covid19 Local Resilience Fund | Applications up to £5,000 are invited for projects which address issues arising from the Covid19 … |
| Mull and Iona Community Hospital (MICH) Update | After reading several pieces on here I thought I had better let you know how … |
| Coronavirus (COVID-19): test, trace, isolate, support strategy | Sets out our plans to help disrupt community transmission of the virus. "On 23 April … |
| Preparing for economic recovery | Expert tech review announced as further business support opens to applications. The second phase of … |
| Private Rent Sector Landlord Covid-19 Loan Scheme | Landlords whose tenants are having difficulty paying rent during the Covid-19 crisis have been offered … |
| Summary of MCM group members views on exiting lock-down | The MCM group are really pleased to see the debate has been opened up on … |
| Additional Funds – Mental Health Suuport & Alcohol Issues | There will be £105,000 going to Young Scot for the provision of new digital content on mental … |
| Supporting People with Autism | The Scottish government has announced more than £200,000 in funding for autism organisations. There are … |
| Coronavirus Newly Self Employed Hardship Fund | This fund can provide a one off grant of £2,000 for the newly self-employed who … |
| Unfamiliar faces / vehicles | If you are unsure of whether someone has a right to be on the island, … |
| Exiting Lockdown? | The MCM group have been asked to give their thoughts on Lock-down. This is such … |
| Round & About – Available Now | The May issue of Round & About is now available in the shops, theme Hope, … |
| A Round up of advice | 1. NHS Inform The latest from NHS Scotland and the Scottish government, including social distancing and … |
| What do you do when you think someone is 'breaking' the lockdown? | Who do you call? The island has risen to the challenge of the lockdown. Rules … |
| Michael Russell – Live Facebook Q&A tonight | Michael Russell, MSP for Argyll & Bute is running a Live Facebook Q&A at 7.30pm … |
| £100m funds to help business – Opens Today | A £100 million package of additional grant support for small and medium sized businesses (SMEs) … |
| Best Start Grants | You can get Best Start Grant and Best Start Foods: if your child is the … |
| Use of Facemasks | The Scottish government has published updated guidance on the use of face coverings during the … |
| Fishermen/Women – Support | For fishermen/women and their families needing extra support on the islands. Support and financial help … |
| Businesses Working together | During the COVID-19 epidemic, the people of Mull and Iona have rallied together to help … |
| Social distancing regulations strengthened | Temporary regulations confirmed and extended to protect workers. Social distancing regulations introduced to slow the … |
| Small Business Loans – Update 27 April | Britain's smallest businesses will be offered 100% government-backed rescue loans after sharp criticism for the … |
| South West Mull and Iona Development Update | A coastal project on Mull is providing a lifeline for rural residents making sure no … |
| Introducing Mull TV | In these difficult times, it is good to announce something new. Introducing Mull TV. Mull … |
| Auto Finance leases – Repayment freeze | Britain's financial watchdog has confirmed there will be a three-month repayment freeze for consumers with … |
| Commercial Property Arrears | Commercial property landlords banned from demanding rent arrears Commercial property landlords in the UK have been … |
| Domestic Abuse | Calls to National Domestic Abuse helpline up by 120%. Please, please, please reach out where … |
| Royal Bank – Cards for Carers | Royal Bank of Scotland is introducing a new supplement card to existing current account holders … |
| Scotland's Framework for making decisions | Scotland must adjust to "new normal" of living with Covid-19, which may include cycling in and … |
| Co-op Tobermory – Advance Notice | The Co-op may when required close the store between 10am and 11am on any given … |
| Special dietary requirements | If you have a letter from your surgery confirming that you need a special diet, … |
| Shielding and at high risk – Food Boxes | Food boxes for people who are shielding and at high risk Your ambient and frozen … |
| Ferries April Round up | Everything is of course dominated by Coronavirus right now, and the impact on Scottish ferry … |
| Aldi Form is up and running! | The Aldi form is up and live as of now. If I could remind you … |
| Scrubs Update – Fabric needed! | We can re-purpose duvet covers, sheets, curtains, but it must meet the following requirements: washable … |
| Mull Highland Games 2020 Cancelled | Mull Highland Games Committee regrets to advise that the 2020 Games event is cancelled due … |
| Nappy delivery service | Order nappies, formula and wipes and we will arrange for them to be collected from … |
| Aldi Deliveries | We are able to offer basic food boxes, containing enough food from Aldi to supply … |
| Oban Times | All stories in the Oban Times are free to read online during the crisis. … |
| Job Retention Scheme open | The government's Job Retention Scheme is now open for employers to access support to continue … |
| Co-Op Update – 18 April | Deliveries- We are being delivered to 6 days a week so that should really help … |
| Ruby Low – ICU Nurse | This time last month, Ruby Low, from the Isle of Mull, was four weeks into … |
| Mull Broadcasting – 3 Episodes available NOW | There are now THREE EPISODES from Mull Broadcasting, all available by following this link. Thanks … |
| Carers, In need of Support? | North Argyll Carers Centre If you are currently in a caring role and in need … |
| UK Furlough scheme extended | The government payment scheme for furloughed workers has been extended into June. More than nine … |
| Business Round up – 17 April | Extension of coronavirus support This week the Scottish Government announced a £220m extension to the … |
| Argyll & Bute Council -Travel Advice | Everyone's clear about the need to stay home and stay safe at the moment, and … |
| Online live Baby Massage Classes | Argyll and Bute HSCP MIDWIVES are delivering online live Baby Massage Classes to parents across … |
| Mull Ballet | Free online weekly Mull Ballet dance classes starting next week. All welcome – children must … |
| Shielding – The Support Services are there to help you | If you are shielding it is really important to use the practical supports that are … |
| Shielding – Does it apply to you? | If you are not sure if it applies to you you can call the Coronavirus … |
| Isle of Mull Ice Cream Home Deliveries | Since lockdown was announced we've taken a little time to pause and figure out the … |
| Food Bank Donations | Many people have been asking how they can give financial donations to the food bank. … |
| Third Sector – Emergency Funding | Third sector organisations across Scotland are being encouraged to apply for emergency funding to help … |
| Sunday Sailings suspended | The temporary timetable in place for Oban – Craignure has been amended. As from this weekend, there … |
| Additional support for business | Second phase of funding to protect against the effects of COVID-19. Around £220 million of … |
| EwenMe – New phone based support service | EwenMe is a new phone based support service launched by Ewen's Room to combat the … |
| Tobermory Stores – Boxes & Stock | Hope everyone had a nice Easter weekend. We have been busy updating our stock list … |
| Face Masks Update 14 April | Face Masks update; With help from Dawn Read, Diana Guthrie-James and Brian Swinbanks we now … |
| Beatson's Building Supplies Mull Rally update | –       Planning going ahead for the October 8-11 event –       Organising Permit in place from Motorsport UK … |
| Helpline for people over 70 and other high risk people | Starting tomorrow (April 14th) there is a new helpline for people over 70 and other … |
| Surgical Scrubs – Volunteers Needed | We're ready to start making 72 sets of surgical scrubs for our NHS staff and … |
| Shielding | Shielding is for people, including children, who are at very high risk of severe illness … |
| Information for Maternity Patients | Updated 10/04/20 – Women can join the Midwives on their own facebook page Birth in Argyll & … |
| Community Pharmacy Easter Opening Hours | Community Pharmacy Easter Opening Hours http://ow.ly/u1lB50zaD2J Latest guidance on Coronavirus including Social Distancing and general … |
| COVID19 Symptom Tracker App | Argyll and Bute HSCP  The COVID19 Symptom Tracker is an app, approved by Scotland's top … |
| NHS Scrubs – Volunteer Coordinator needed! | We're looking for a Coordinator to recruit a team of volunteers to produce sets of … |
| Co-op Shopping Scheme update 10th April | We're delighted that so many people are using the Co-op shopping scheme. To help us … |
| A message to the Mull Community …… | … from the Mull Crisis Management Group Today is the three week anniversary of our … |
| Another reason to support the Co-op! | The Co-op has pulled its planned Easter television advertising campaign, instead donating the airtime to the national … |
| Airbnb halts bookings in UK | From today, UK Airbnb bookings will be restricted to key workers and other essential stays … |
| Tobermory Post Office opening hours from 09 April | Extended Tobermory Post Office opening hours from 09 April Monday 10.00 – 4.00 Tuesday 10.00 … |
| Home-Start Mull | Although our groups and Home visiting volunteers have been put on hold until we are … |
| Masks for Mull! | Working with frontline NHS Staff and Carers, a small team of volunteers have developed a … |
| Co-op Shopping Scheme – update 7th April 2020. | The scheme is proving really popular – thank you to everyone who is supporting it. … |
| Friday Deliveries | FREE DELIVERY TO YOUR DOOR We are delivering all across the island to your door! … |
| Coronavirus Funding Support and Grants | Current information from Business Gateway on Coronavirus Funding Support and Grants Click here Updated … |
| Ross of Mull Art Exhibition | Go to the Facebook Page of the Ross of Mull Art Exhibition. 2020 would have … |
| New Overdraft Rules | Article in the Scotsman outlining the new overdraft rules. Read the … |
| NHS Update | @NHS24 continues to work tirelessly to answer your calls as quickly as possible. To help … |
| NHS Fitness Studio | Take your pick from 24 instructor-led videos across our aerobics exercise, strength and resistance, and pilates and yoga … |
| Salen – Gift of Food | Good afternoon. This is a call out for everyone in Salen. The island has been … |
| Universal Credit online | Use this service to: Create a Universal Credit account Make a claim Join your partner's … |
| Bin collections from Monday 6 April | During the coronavirus (COVID 19) pandemic, the council will introduce a simplified, two-weekly bin collection … |
| Current Business Support | Comprehensive and detailed report on Business support. 17 Pages. … |
| Using Zoom! | Zoom is very popular and it is being used a lot on the island. There … |
| West Coast Motors | West Coast Motors (WCM) have contacted me to say they are now available to transport … |
| Ewen's Room new Buddy Line. | The name may change but the idea behind this remains the same. Thanks to all … |
| Creative Scotland Resource Directory | Creative Scotland have pulled together an A-Z of funding and resources available to those in … |
| If your employer has told you not to work | If your place of work has shut down or there's no work for you because … |
| Tobermory Pharmacy | To assist with our deliveries could patients who have moved in the last 12 months … |
| Mull and Iona Ranger Service | At this time the natural world can provide a lot of solace and is great … |
| Sorren & Hannah, Livestream Gig 3rd April | This Friday, 3rd April at 7.30pm, Sorren & I are performing a full length gig … |
| Tobermory Spring Flower Show – Online Fun | Tobermory Spring Flower Show had to be cancelled. So for a bit of fun any … |
| Tobermory Harbour Association April 1st Update | Covid 19 restrictions update at 1st April 2020 As you may be aware, we have … |
| Dental surgery update | The dental surgery is closed for direct dental treatment. I can help with advice, analgesics … |
| Shopping | We have had to change the way you pay for Shopping if you are using … |
| Advice to Owners … | … of companion animals and livestock https://www.gov.scot/publications/coronavirus-covid-19-advice-to-owners-of-companion-animals-and-livestock/ … |
| Round & About, April Issue – Available now | Round & About: The April issue of Round & About is now in the shops, … |
| Post Office – What's What | We are not refusing any customers, what may be essential to me may not be … |
| Craignure assessment centre opened | Please read this carefully. Report from the Oban Times.  Coronavirus assessment centres have opened at … |
| For Residents of South West Mull | Just to let you know that you might get a phone call over the next … |
| Telephone Issues, Tobermory Surgery | 31/03/2020 We are currently experiencing telephone issues with our main line into Tobermory Surgery. Please … |
| Help with non-domestic rates | Help with non-domestic rates in Scotland during coronavirus. … |
| 10 drivers doing deliveries to your door! | 10 drivers doing deliveries to your door, free of charge and using social distance. (Adult … |
| Mull Music Festival – New Dates 1st October – 4th October | Mull Music Festival new dates starting Thursday 1st October through to the Sunday night 4th … |
| Domestic Abuse – Help & Information. | These are challenging times for all families. There is a big risk of an increase … |
| Cleaning Update | All of these products should be applied and left on surfaces for several minutes to … |
| Medical equipment and supplies | From the Community Nurses: We are looking for equipment and supplies that have been given … |
| Dedicated helpline offering advice to vulnerable people | A dedicated helpline offering advice to vulnerable people across Argyll and Bute during the coronavirus … |
| Governement Guidance for Food Businesses | Newly Released. https://www.gov.uk/government/publications/covid-19-guidance-for-food-businesses Also in … |
| Buy & Sell Mull – Open with changes | Hi everyone, I just wanted to let you know that Buy & Sell: Mull will … |
| Park Lodge – Takeaways but home delivered ONLY | We have been contacted by Argyll and Bute Council and on their recommendation we will … |
| NEW – Self Employed Income Support Scheme | Pays 80% of avarage profits over the past three years Up to £2500 per month … |
| Visit Mull and Iona | An updated message to our visitors. … |
| URGENT GUIDANCE | Under Clear Medical Advice the Mull Crisis Management group have made this decision for the … |
| Local Resources – Updated 26 March | The  Local Services page has been updated. Expanded South West Mull … |
| Mull and Iona Vets – Covid-19 update | This post is to highlight changes to the veterinary services provided by Mull and Iona … |
| CALMAC – Essential Lifeline Timetables | Calmac have published the Essential Lifeline Timetables  to keep us safe during the Covid-19 outbreak. … |
| Dervaig Premier | In order to continue to fulfill the huge increase with home deliveries, in conjunction with … |
| Successfully dealing with an early COVID case on Mull | Successfully dealing with an early COVID case on Mull and the prevention of contagion This … |
| Ross of Mull and Iona Community Transport Scheme | Community transport will deliver prescriptions and shopping on request for anyone, throughout SW Mull, during … |
| Glengorm Landfill site – Closed | Due to the ongoing situation with the coronavirus Glengorm landfill site is closed to the … |
| West Coast Motors -Reductions | COVID-19: SERVICE UPDATE From Wednesday 25 March, we shall make further reductions to our bus … |
| Seafood sector – Aid Package | The seafood sector is to receive an initial support package of more than £5m during … |
| The Waterfall Fund | The Waterfall Fund Covid-19 Crisis Fund has agreed the first grant payment to a group … |
| Salen Hotel | With the updated guidance it appears that we can continue our take away service. So … |
| Grants for Small Businesses scheme | Application forms for the Grants for Small Businesses scheme are now on the Argyll & … |
| Tobermory Gas Man TGM | We are in unique times, with the UK Government asking people to stay at home … |
| Co-op – Newspapers & Lottery suspended | Newspapers and lottery are suspended until further notice. We will limit customers numbers to 10 … |
| Tobermory CalMac office – Closed | Due to the impact that Covid – 19 is having on our staffing levels we … |
| Argyll & Bute – Updated Information for businesses | Argyll & Bute have updated their information. … |
| Tobermory Post Office – Opening Hours | Given the announcement tonight I have made the decision to cut the opening hours further. … |
| Glengorm Coffeeshop – Closed | Following the latest government updates the shop at Glengorm Coffeeshop will not be open after … |
| Mull Sportive – Cancelled | Unfortunately we have no option but to cancel this year's Mull Sportive. Even if the … |
| Bank of Scotland – No van this week | There will be no service this week. The mobile is not coming over to the … |
| Get an Isolation note if … | Use this service if you have been told to stay at home because of #coronavirus … |
| Mull Hire | Please contact by telephone only 01680 300422 07831256001 Thank You, … |
| MacDonalds Filling Station, Salen | Mon – Sat Open 7.30am- 6pm Sundays Closed all … |
| Co-op – New measures | Urgent From tomorrow we will be limiting customer numbers in store and numerous other measures … |
| Tobermory Stores – Delivery Service | Closing Announcement Due to the announcement just made by the Prime Minister, it is with … |
| Tobermory Bakery – Closed Tuesday 24 March | We are closing tomorrow to ensure we implement a service that will Benefit as many … |
| Living with worry and anxiety | Our world is changing rapidly at the moment. Given some of the news coverage, it … |
| NHS – Say Thanks | People have been asked to take part in a huge round of applause on Thursday … |
| The 2 Fund Raising Appeals | Medical Emergency Fund https://www.crowdfunder.co.uk/isle-of-mull-community-covid-19-emergency-fund Mull Crisis Fund … |
| MESS Castaways – NO DONATIONS PLEASE | NO DONATIONS PLEASE Due to Covid 19, we have closed the shops and are now … |
| Protecting Personal and Community Safety | INTRODUCTION We are really lucky on Mull to have Steve Douglas as part of the … |
| Spar Shop, Bunessan – New Measures | In light of the current events, the Spar shop in Bunessan has instigated the following … |
| Tobermory Harbour | The Harbour will be closed to all non essential boats and passengers. As Anne says … |
| Mull Bird Club | Mull Bird Club has cancelled all its meeting for the foreseeable future. … |
| Called 999 or 111? Please Read | CAN I ASK IF YOU CALL 999 or are expecting an ambulance through 111 or … |
| Volunteer Coordinators | The multi-agency partnership managing the emergency response in Argyll and Bute is looking for nominated … |
| Holiday Let and Second Home Owners – Please read | We urgently need to get in place island wide overnight stays where delivery and fuel … |
| Daily Mass – Details | Daily Mass at 10 am and also Worshiping when you cannot Attend Mass I am … |
| Pennyghael Stores – OPEN | I am open from 9.00 – 4.00 Monday to Friday. I am still getting fresh … |
| Church of Scotland – Online Worship | Local Services are currently suspended but the Church of Scotland in Kintyre & Gigha are … |
| Covid-19 and Royal Mail | With more and more Mull residents at home through the day, myself and my fellow … |
| Tobermory Hotel – Closed | HOTEL CLOSURE As directed by the Government, we have now closed the restaurant and bar … |
| How we can best stop Covid-19 on Mull | We all have an amazing Community on Mull. After 2 months of preparation many people … |
| Calmac – Keeping each other safe | To minimise personal contact at this ticket desk area, and to maintain practical social distance … |
| Housing Benefit and Council Tax Reduction | If you are on a low income, whether you are working or not, and need … |
| Coronavirus – what should I claim? | https://www.argyll-bute.gov.uk/coronavirus/claim Have you been made redundant or laid off? You may be entitled to the … |
| Scam – Fake HMRC texts and emails. | Warning to everyone. There has been a flood of text messages and emails saying they … |
| Whitetail Gin – Hand Sanitiser | Whitetail now have the first hand sanitiser available for those who are most vulnerable/work in … |
| The Waterfall Fund: Covid-19 Crisis Fund | In view of the exceptional level of need generated by the current pandemic, the Waterfall … |
| Argyll & Bute – Wedding Advice | We understand this is an extremely worrying time for anyone who has a wedding booked … |
| Tobermory High School kitchen | Tobermory High School kitchen will be open between 12 noon and 12.30pm every weekday so … |
| Key Workers List | The Department for Education has published a list of "key workers" whose children will be … |
| A message to all travellers to and from Mull | People travelling to and from Mull have a responsibility to follow all government advice intended … |
| Marketing Mull and Iona – A message to our visitors | Many visitors are seeking clarity as to whether they should come to Mull and Iona … |
| Coronavirus and claiming benefits | This page provides information about coronavirus and claiming benefits. It will continue to be updated. Please … |
| Tell the Island's story | The Guardian are looking for people to talk about the impact of Coronavirus. It's titled … |
| Update on school closures and exams – 19 March | Exams will not go ahead, teaching, learning and support can continue with local flexibility. Deputy … |
| Current COVID-19 GUIDANCE – 19 March | SELF ISOLATION is recommended for high risk groups. These groups include: • Aged over 70 … |
| Calmac – Major Changes | During the current global outbreak of Coronavirus (COVID-19), CalMac is working closely with all relevant … |
| South West Mull and Iona – Telephone linking service | To help combat social isolation we are co-ordinating a telephone linking service for people who … |
| Asthma Advice | This is good advice for anyone with Asthma. It came from a respiratory nurse specialist … |
| Coeliac disease and coronavirus | New government advice about at risk groups now includes criteria which includes people with coeliac disease. … |
| A Heart Breaking Statement of Fact | A HEART BREAKING STATEMENT OF FACT by one of our most loved. Despite Government recommendations … |
| A Hiker's guide to Coronavirus | Can and should you carry on hiking and hillwalking? What happens if the government introduces … |
| Advice for our Young People | Advice for Young People from … |
| Ross of Mull and Iona Community Transport Scheme – Change | Ross of Mull and Iona Community Transport Scheme are suspending their transport service and are … |
| Salen – Community Support | In Salen if you are having to reduce social contact, Kerry Mitchell, Helen McWalter & … |
Christmas Guidance
26th November. The Scottish Government has issued the Guidance for Christmas. It is a series of quesions and answers.
England
Tiers and Restrictions from 2 December now published
Levels Review
All local authorities will remain in their existing tier except for East Lothian going from level three to level two at 6pm
"There is a significantly improved picture across Scotland with regard to projected pressures on NHS capacity. Every local authority is now showing "low concern" for projected use of hospital and intensive care beds.
"This is excellent progress, and it is vital that this is maintained if we are to meet the challenges of the winter season."
Students
All students will be offered two Covid tests if they wish to go home and she confirms the student testing programme will get underway next week.
She strongly recommends any student wishing to go home is tested and takes extra care in the preceding two weeks before they travel.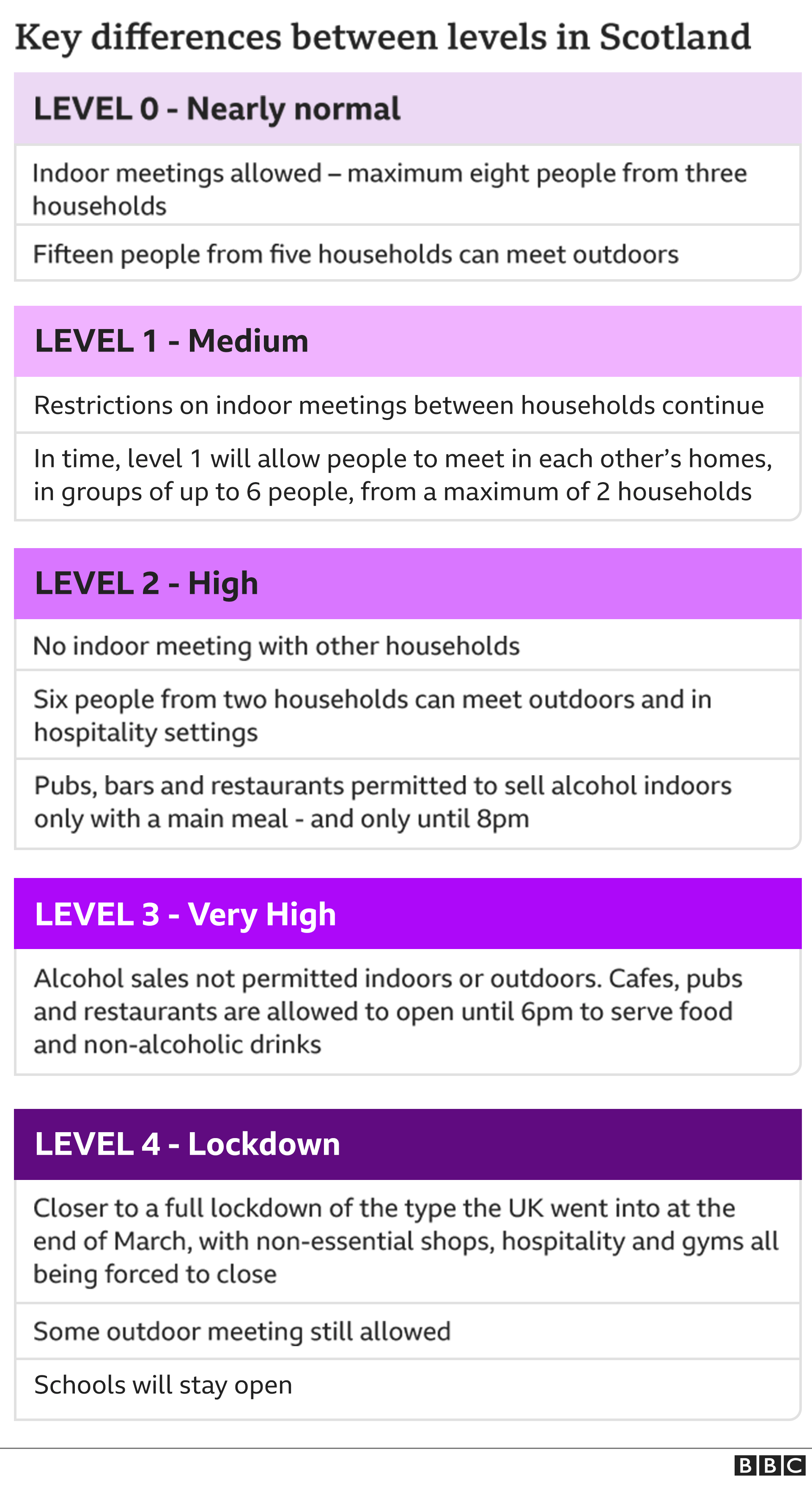 Food supplies can be sourced from local suppliers on the Island, a full list is available here and that there is also a new delivery service available, Mull Home Delivery Service – 07785 792 618.
If anyone has any concerns regarding Coop shopping, please contact Sarah at shopping@mullhealth.com
These are the post boxes for Covid-19 tests.
Salen Pillar box (outside Spar shop)
Aros Bridge box
Dervaig post box (outside shop)
Tobermory Breadalbane street pillar box
Fionnophort (outside ferry shop)
Bunessan (outside glens) box is currently out of commission as the locks broken!
Pennyghael (village hall)
Craignure (outside spar)